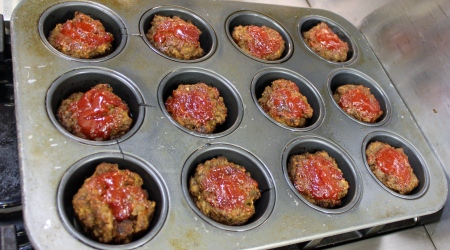 You may think that this KP original recipe for mini meatloaves is nothing more than a glorified meatball. And you're probably right

But aren't they fun??? My kids LOVED these and I may have eaten 4 myself (I'll never confess the truth!) Try them for something different the next time a pound of ground beef is staring you in the face. Serve them with mashed potatoes and green beans for a run-to-the-table-delicious dinner!
Ingredients:
1 1/2 lbs. lean ground beef
1/2 cup ketchup
2 Tablespoons packed brown sugar
1/2 cup baking mix (I used Bisquick)
Pinch of Kosher salt
1/2 teaspoon garlic powder
Freshly ground black pepper, to taste
1 Tablespoon dried minced onions
2 teaspoons Worcestershire sauce
1 teaspoon dried parsley
1 egg, slightly beaten
Directions:
Pre heat oven to 375 degrees F.
Spray a 12-cup muffin tin with Pam cooking spray.
In small bowl, stir ketchup and brown sugar until mixed. Reserve 1/4 cup for topping.
In large bowl, stir remaining ingredients and remaining ketchup mixture until well mixed. (I find using your hands is the easiest–though messiest–way to mix everything together.)
Using your hands, shape into 12 equal size balls. Be careful not to over-work the mixture, as that can cause tough meatloaves.
Place 1 ball into each muffin cup.
Top evenly with remaining ketchup mixture.
Bake 25-30 minutes, until cooked thru.

Related Recipes