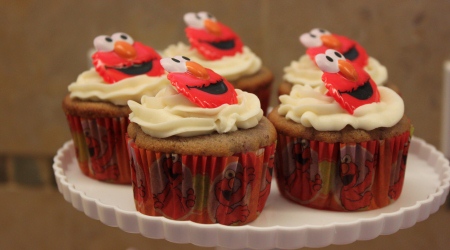 These cupcakes are perfection! They are light, fluffy, not too sweet, and best of all they're not from a box! I made these for my daughter's 2nd  Birthday party (hence the Elmo toppers) and they were a huge hit! They would also be great for Easter brunch. Frost them with Cream Cheese Frosting (recipe found separately on the site). I found this recipe in the Raley's Grocery Store magazine. Happy baking!
Ingredients:
1/2 cup butter, softened
1 cup sugar
3 egg whites
1½ cups cake flour
1 teaspoon baking powder
3/4 teaspoon baking soda
1/4 teaspoon salt
1 cup pureed fresh strawberries
1/4 cup sour cream
1½ teaspoon balsamic vinegar
Directions:
Pre heat oven to 350 degrees F.
Line 18 muffin cups with paper liners.
Beat butter in a large bowl with an electric mixer until creamy.
Gradually add sugar and beat until light and fluffy.
Add egg whites and beat until well combined.
Stir together flour, baking powder, baking soda and salt in a medium bowl.
Stir together berries, sour cream and vinegar in a small bowl.
Add dry ingredients to butter mixture alternately with berry mixture, beating well after each addition and scraping bowl frequently with a rubber scraper.
Pour batter into prepared muffin cups and bake for 15 to 18 minutes or until a toothpick inserted into center comes out clean.
Let cool completely before topping with Cream Cheese Frosting (recipe listed separately on the site).

Related Recipes