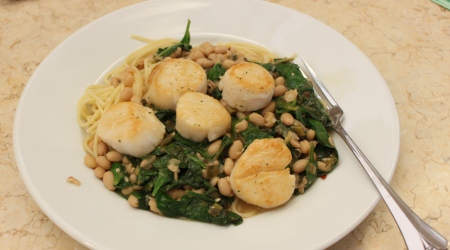 This recipe is super easy, super healthy, and super yummy! What more can you ask for in a meal?? Thanks to my friend Missy for sending it to me. I served the soupy scallops, spinach and beans over pasta, but it would also be great with couscous or big chunks of crusty bread to soak up the delicious broth.
Ingredients:
2 Tablespoons extra virgin olive oil, divided
1 1/2 lbs. sea scallops
1/4 teaspoon salt
1 cup green onions, chopped
1/8 teaspoon crushed red pepper
2 fresh garlic cloves, minced
1/4 cup dry white wine
1 cup chicken broth
1 fresh lemon, juiced
1 (19-oz.) can cannellini beans, rinsed and drained
1 (6-oz.) package fresh baby spinach
2 Tablespoons fresh basil, chopped
Directions:
Heat 1 Tablespoon oil in a large nonstick skillet over medium-high heat.
Sprinkle scallops evenly with salt.
Add scallops to pan and cook 2 minutes on each side or until done.
Remove scallops from pan and keep warm.
Add remaining 1 Tablespoon oil and green onion to pan. Sauté 2 minutes.
Add red pepper and garlic. Cook 30 seconds, stirring constantly.
Stir in wine and cook 1 minute or until most liquid evaporates.
Stir in broth, lemon, and beans. Cook 2 minutes.
Add spinach and cook 1 minute or until spinach wilts.
Remove from heat and stir in basil.
Serve over pasta or couscous.

Related Recipes