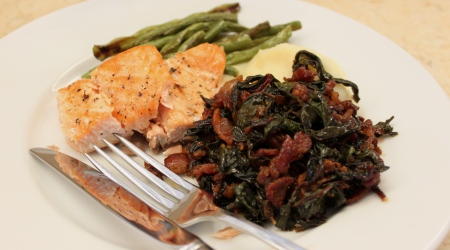 Looking for a way to knock the healthy right out of dark leafy greens?? Well then you've come to the right place

I joke, but really, this recipe definitely "balances" vitamin-packed greens with flavor-packed ingredients like molasses, beer and garlic. Serve this delicious side dish with Panko Pork Chops, Grilled Salmon, or topped with a fried egg for breakfast (that's how I used the leftovers and it was fab!!) Thanks to good 'ol Emmril for this recipe–the man knows how to cook with bacon, that's for sure!
Ingredients:
1/2 lb. raw bacon, chopped
3 cups yellow onion, thinly sliced
Kosher salt and freshly ground black pepper, to taste
Pinch of ground cayenne
1 Tablespoon minced garlic
1 (12-ounce) bottle dark beer
1/4 cup rice wine vinegar
1 Tablespoon molasses
6 lbs. greens, such as collard greens, kale, chard, and spinach, cleaned and stemmed
Directions:
In a large pot, cook bacon until crispy, about 5 minutes.
Add onions and cook for about 6 to 7 minutes or until the onions are wilted.
Season the mixture with salt, pepper and pinch of cayenne.
Add garlic and cook 2 minutes.
Stir in beer, vinegar, and molasses.
Stir in greens, a third at a time, pressing the greens down as they start to wilt.
Cook  greens, uncovered for about 45 minutes.

Related Recipes