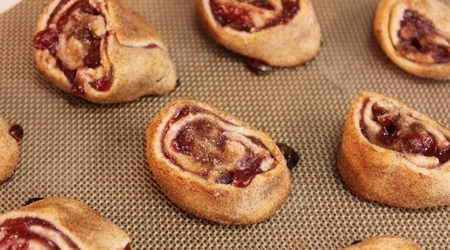 These are dead easy to make, and even easier to eat! Serve them at your next brunch, or surprise your family one Sunday morning with a treat. Mix things up and try different jam and nut combos–apricot and walnuts, strawberry and almonds, whatever you have at home. Also, Whole Foods sells a refrigerated pie crust with no hydrogenated oils. I found this recipe on WomensDay.com.
Ingredients:
2 Tablespoons granulated sugar
1/2 teaspoon ground cinnamon
2 refrigerated rolled pie crusts
1/2 cup raspberry jam
1/2 cup pecans, finely chopped
Directions:
Heat over to 400 degrees F.
Line a baking sheet with parchment paper.
Sprinkle a clean work surface with 1 tablespoon of the sugar and 1/4 teaspoon of the cinnamon.
Unroll one pie crust, place it on the cinnamon-sugar mixture and press gently to help the mixture adhere to the crust.
Spread half the jam evenly over the crust and sprinkle half the pecans over the top.
Starting at one end, tightly roll the dough into a log.
Repeat with the remaining ingredients.
Trim the ends of each log, then cut into 1-inch-thick slices and stand them on edge (sugared-dough-side up and down) on the prepared baking sheet, spacing them 2 inches apart.
Bake until golden brown, about 15 minutes.
Transfer to a baking rack to cool completely.

Related Recipes