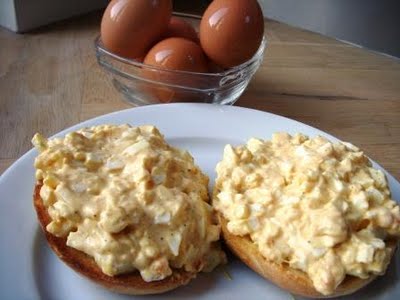 Here's an oldie but a goodie! Egg salad is great for breakfast, lunch, and even brunch. Serve it on a toasted bagel for a quick breakfast sandwich, or serve it on Danish Wheat Bread with lettuce and tomato for lunch. For brunch, serve it as individual finger food by slicing a fresh baguette into thin pieces, placing a heaping tablespoon of egg salad on each slice, then topping with half a cherry tomato–delish!
Ingredients:
6 eggs
1/4 cup mayo
2 teaspoons yellow mustard
1 Tablespoon fresh chopped chives
1 teaspoon ground sweet paprika
Fresh ground black pepper and garlic salt, to taste
Bread of your choice, for serving
Directions:
To hard boil eggs, place them in a single layer in a wide, deep pot. Add enough cold water to just cover all eggs. Place over medium heat, uncovered. When the water first boils, cover with a lid and remove from heat. Let eggs stand for 8 minutes to finish cooking.
Place hard boiled eggs under cold running water to cool completely. Once cool, remove shells completely and discard shells. Chop eggs.
In a bowl, combine mayo and mustard. Add chopped eggs, chives, paprika, black pepper and garlic salt. Mix well.
Serve immediately on bread of choice. Cover tightly and refrigerate leftovers up to 3 days.

Related Recipes