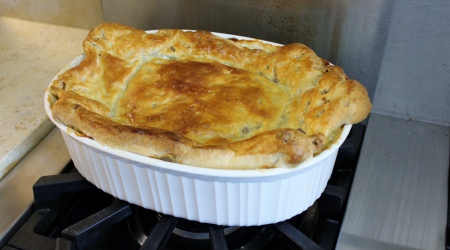 According to Jamie Oliver this recipe is "dead easy". I respectfully disagree. This was an all Sunday afternoon-mess up the entire kitchen-stack dishes in the sink until the morning-kinda meal. But my friends, I wouldn't post it here unless it was good. And let me tell ya IT'S FRIGGIN AMAZING! So plan ahead, give yourself time to cook, and make this for your family. You will be very happy that you did. And thank you Mr. Jamie Oliver for the complicated, but worth it, recipe.
Ingredients:
3 strips thick-cut bacon, roughly chopped
1 Tablespoon fresh thyme leaves, chopped
1 Tablespoons extra virgin olive oil
1 Tablespoon butter
4 leeks, washed, trimmed, and chopped
Kosher salt and freshly ground black pepper, to taste
4 cups cooked chicken, chopped
2 Tablespoons all-purpose flour, plus extra for dusting
4 cups chicken stock
2 Tablespoons crème fraîche
1  (500 gram) packet puff pastry (two sheets)
1 cup walnuts, chopped
1 Tablespoon dried sage leaves
1 egg, beaten
Directions:
Pre heat oven to 375 degrees F.
Place bacon in a large, deep-sided skillet over medium heat.
Add thyme leaves.
Add olive oil and butter and cook 5 minutes (just until bacon is cooked, not crispy).
Add leeks and cook about 3 minutes until well-coated in butter.
Add a pinch of salt and pepper.
Cover and lower heat to medium.
Cook gently for 20 minutes. Stir every 5 to 10 minutes so leeks don't brown.
Add chicken to leek mixture and stir.
Add flour and mix well.
Pour in stock and stir again.
Add crème fraîche.
Turn up heat and bring just to a boil.
Adjust salt and pepper if need be, then turn off heat.
Spray a large, deep baking dish with Pam Cooking spray.
Dust a clean surface and rolling pin with flour and roll out pastry so it's about double the size of the dish.
Sprinkle walnuts and sage over half the pastry.
Fold other half of pastry on top.
Then roll it out carefully and evenly to a  rectangle big enough to cover the baking dish.
Lay pastry on top, tuck ends under, then gently score pastry diagonally with a knife.
Add a pinch of salt to beaten egg, then paint over top of pastry.
Bake 35 to 40 minutes or until pastry is puffed up and golden brown.
Let set 15 minutes before digging in.
It will be soupy, so serve in bowls.

Related Recipes