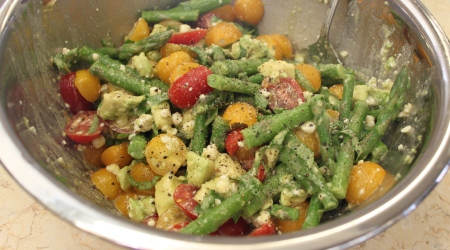 I am already gearing up for summer picnics! And this salad is a must-have. The flavors are incredible together. The blue cheese and avocado break down a bit when stirred, creating a creamy, dreamy dressing for the fresh asparagus and grape tomatoes. One thing to note, this salad does not keep well as leftovers, so eat it the day to make it. I found the recipe in Sunset Magazine.
Ingredients:
1 lb. asparagus, trimmed and halved
6 cups fresh grape tomatoes (in varied colors), halved
1/2 cup blue cheese, crumbled
1 ripe avocado, cut into cubes
1 cup fresh basil leaves, chopped
1/2 cup walnuts, chopped
1/4 cup extra virgin olive oil
2 Tablespoons fresh lemon juice
1 Tablespoon Dijon mustard
Garlic salt and freshly ground black pepper, to taste
Directions:
Boil asparagus in a large pot of salted water for 2 minutes. Drain and rinse with ice cold water (to stop cooking).
Whisk together olive oil, dijon, and lemon juice in a large bowl.
Gently toss in remaining ingredients, stirring to coat evenly with dressing.
Serve immediately. Does not keep well as leftovers.

Related Recipes