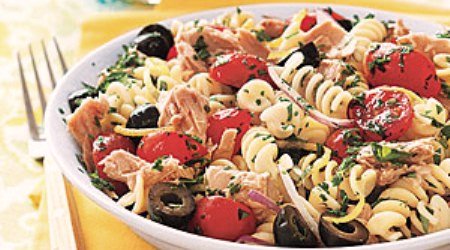 Living in Luxembourg, I ate a lot of Nicoise salads (pronounced nee-swahs, in case you wondered). They were served just about everywhere (even on the Pizza Hut menu!) So I decided to try a twist on the classic, using similar ingredients for a pasta salad. I served this at a party at my Dad's house and it was a success. Thanks to my family for being my guinea pigs!
Ingredients:
1 lb. spiral pasta, cooked al dente and cooled completely
2 (6 oz.) cans tuna, packed in water, drained and flaked
1/4 cup capers
1 can white beans, drained and rinsed
1/2 cup black olives, sliced
1/4 cup red onion, sliced
1 cup fresh green beans, steamed and cooled completely
1 cup cherry tomatoes, halved
1 bottle prepared vinaigrette salad dressing, mixed with 1 Tablespoon dijion mustard
1 can sliced beets, chopped
Fresh ground black pepper, to taste
Freshly chopped parsley, to taste
Directions:
In a large salad bowl, mix together first 9 ingredients (pasta thru vinaigrette dressing). Combine well.
Gently fold in beets (do not over mix or the entire salad will turn purple!)
Add pepper and parsley to taste.
Cover and refrigerate at least 1 hour prior to serving.

Related Recipes