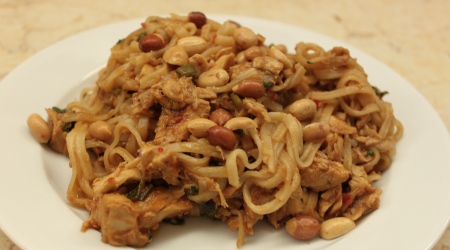 Just tried this recipe tonight and it's a winner! The whole family loved it. It's easy to make and the flavors are amazing. Serve with steamed snow peas for a complete meal. Thanks to Cooking Light magazine for this recipe.
Ingredients:
1 teaspoon canola oil
1 Tablespoon fresh ginger, peeled and grated
2 fresh garlic cloves, minced
1/2 cup green onions, chopped
1/4 cup fresh cilantro,  chopped
5 Tablespoons soy sauce
3 Tablespoons rice vinegar
3 Tablespoons hoisin sauce
2 teaspoons chile paste
2 teaspoons natural creamy peanut butter
2 cups cooked skinless, boneless chicken breasts, chopped
1 (6.75 oz.) package thin rice sticks (rice-flour noodles)
2 Tablespoons dry-roasted peanuts, chopped
Directions:
Cook noodles according to package directions. Drain. Set aside.
Heat oil in a small skillet over medium-high heat.
Add ginger and garlic to skillet and cook 45 seconds, stirring constantly.
Add green onions and cook 2 additional minutes.
In a small bowl, whisk together soy sauce, rice vinegar, hoisin, chili paste, peanut butter. Pour into skillet.
Bring mixture to a boil. Reduce heat and simmer 1 minute, uncovered.
Stir in chicken and cilantro.
Add cooked noodles to skillet and toss well to coat.
Cook on low for 2 minutes, until heated through.
Sprinkle with peanuts and serve.

Related Recipes