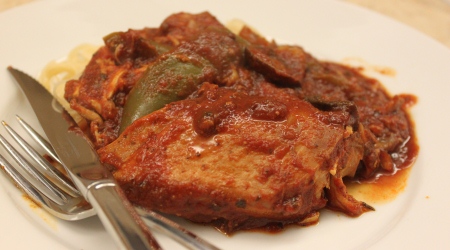 This slow cooker meal is a real kid-pleaser. I scooped the soft chicken and sweet-savory sauce over pasta and my kids devoured it! Don't let the red pepper flakes scare you (or your kids)–they nicely balance out the sugar in the sauce. Leftovers are even yummier the next day. Thanks to Allrecipes.com for the recipe.
Ingredients:
1 large onion, thinly sliced
3 lbs. boneless, skinless chicken breasts
2 (6 oz.) cans tomato paste
4 oz. fresh mushrooms, cleaned and sliced
1 green bell pepper, seeded and finely chopped
4 cloves garlic, minced
2 teaspoons dried oregano
1 Tablespoon sweet paprika
1 teaspoon dried basil
1/2 teaspoon celery salt
1 1/2 Tablespoon brown sugar
1/2 cup dry white wine
3 Tablespoons extra virgin olive oil
1/2 teaspoon crushed red pepper flakes
Directions:
Layer onion over bottom of a 6-quart slow cooker.
Add chicken to cooker.
Combine remaining ingredients and pour over chicken in cooker.
Cover and cook on Low 7 to 9 hours or on High 3 to 4 hours. (Depending on how quickly your slow cooker cooks.)
Serve over pasta or egg noodles.

Related Recipes