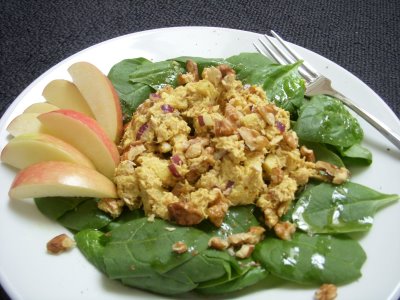 There is so much more you can do with a can of tuna, than just adding mayo. Try this tuna salad on a bed of fresh spinach leaves for a delicious change!
Ingredients:
1 Tablespoon plain yogurt
1 Tablespoon mayo
1 Tablespoon extra virgin olive oil
1 Tablespoon fresh lemon juice
1 teaspoon curry powder
Dash of cayenne pepper
One 6-oz can tuna, in water (drained)
1 Tablespoon chopped walnuts (more for garnish, if desired)
1/2 tart apple, chopped (more for garnish, if desired)
1 Tablespoon red onion, chopped
Garlic salt and fresh ground pepper to taste
Directions:
Mix the yogurt, mayo, olive oil, lemon juice, cayenne and curry powder until well blended in a bowl.
Fold in all other ingredients.
Add salt and pepper to taste.
Cover and chill 1 hour before serving.

Related Recipes