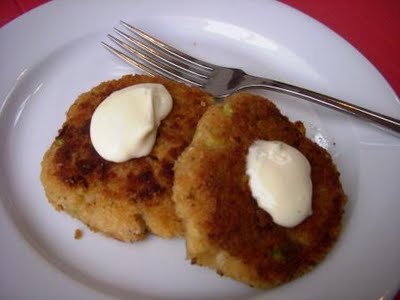 This recipe comes from Kraft and I've been making it for years. These crab cakes are light, and moist and full of flavor! The fresh lime in both the cakes and the sauce really stands out. These work well as an appetizer, or as a light lunch paired with a green salad tossed in Dijon vinaigrette.
Ingredients:
1 medium lime
1 cup mayo, divided
1 packet Good Seasons Italian Dressing mix, dry
1 Tablespoons Dijon mustard
2 cans (6 oz. each) crabmeat, drained and flaked
25 finely crushed Ritz crackers, divided
2 Tablespoons chopped green onion
1/4 cup sour cream
Extra virgin olive oil, for cooking
Directions:
Using a zester, grate the peel of the lime. Then squeeze all juice from lime, discarding seeds.
In a bowl, whisk together HALF the lime juice, 1/2 cup mayo, dry Italian Dressing mix, and Dijon mustard until well blended.
Add crab meat, HALF the crushed crackers, and green onions to bowl and toss gently.
Shape crab mixture into 8-10 (1/2 inch thick) patties. Gently coat both sides of each patty with remaining cracker crumbs.
Heat 2 Tablespoons olive oil in large non-stick skillet over medium heat.
Cook patties in batches (do not over-crowd pan), for 2 minutes per side or until browned and heated thru. Add oil as needed for each batch.
To make sauce, whisk together remaining lime juice, lime peel, 1/2 cup mayo and sour cream in a small bowl until well blended. Serve chilled sauce with hot crab cakes.

Related Recipes