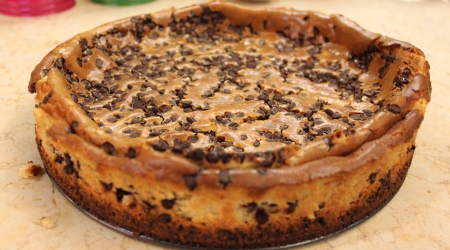 Rich. Creamy. Chocolaty. Delicious. Everything a great cheesecake should be! I found this recipe in the Penzeys Spices magazine.
Ingredients:
1 1/2 cups graham cracker crumbs
1/3 cup unsweetened cocoa powder
1/3 cup granulated sugar
1/3 cup butter, melted
3 (8 oz.) packages cream cheese, softened
1 (14-oz.) can sweetened condensed milk
3 eggs
2 teaspoons pure vanilla extract
1 cup mini chocolate chips, divided
1 teaspoon all-purpose flour
Directions:
Preheat oven to 300 degrees F.
Combine graham cracker crumbs, cocoa, sugar and melted butter.
Press mixture evenly in the bottom of a non-stick (un-greased) 9-inch spring form pan. Set aside.
In a large bowl, beat cream cheese until fluffy.
Gradually add sweetened condensed milk, beating until smooth.
Add eggs and vanilla. Mix well.
In a small bowl, combine 1/2 cup chocolate chips with flour to coat.
Stir flour coated chocolate chips into cream cheese mixture.
Pour into spring form pan and top with the remaining chocolate chips.
Bake 60-80 minutes, until cheesecake is set and not jiggly in the middle.
Turn oven off, crack the door, and cool cheesecake in oven for 1 hour.
Remove from oven and let stand until the pan is cool to the touch.
Refrigerate for at least 4 hours.
Once chilled, remove from pan by running a thin knife around the pan edge, and then carefully remove the spring form.

Related Recipes