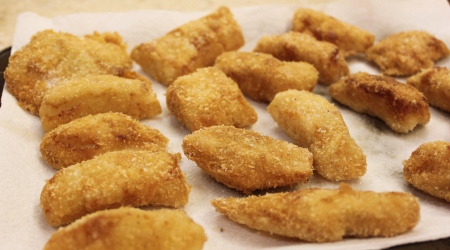 You will never again eat a frozen fish stick once you try this recipe. It is absolutely to die for! I love the "secret" ingredient in the coating. The cod cooks up light and flaky and not the least bit greasy (as long as your oil is deep in the pan and hot when you cook!) Don't let this method of "flash frying" scare you off. It's a healthier method than deep frying, and also a healthier option than processed frozen fish sticks any day. Just look at those beauties in the photo! Thanks to Food and Wine magazine for the recipe.
Ingredients:
2 eggs
2 Tablespoons water
Kosher salt, to taste
Cayenne pepper, to taste
3/4 cup all-purpose flour
1 cup instant potato flakes (the "secret" ingredient!)
1 3/4 pounds cod fillets, cut into 4-by-1-inch strips
Canola oil, for frying
Directions:
In a shallow bowl, whisk eggs with water. Set aside.
In another shallow bowl, mix 1/2 cup flour with salt and cayenne. Set aside.
In a third shallow bowl, combine potato flakes with the remaining 1/4 cup flour and season with salt and cayenne. Set aside.
Line a baking sheet with wax paper. Set aside.
Working in batches, dredge cod strips in flour, tapping off excess.
Next, dip cod strips in egg, allowing any excess to drip back into the bowl.
Then coat each cod strip in potato flakes, pressing to help them stick.
Transfer coated cod strips to wax paper–lined baking sheet. Set aside.
In a large, deep skillet, heat 1 1/2 inches of oil to 325°.
Working in 2 batches, fry the cod strips in hot oil, turning once, until deep golden and crispy, about 3 minutes.
Using a slotted spoon, transfer cooked fish to a paper towel–lined plate and sprinkle lightly with salt.
Repeat with remaining fish.
Serve immediately.

Related Recipes