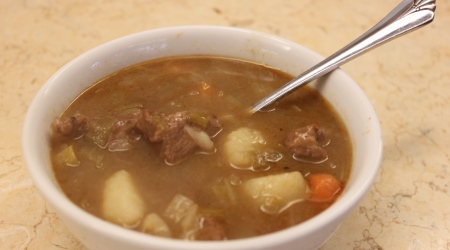 There are a few things in this stew that make it extra special–fresh leeks and the BBQ 3000 seasoning blend from Penzeys Spices (http://www.penzeys.com/). I cannot rave enough about the amazing spices at Penzeys! If there isn't a shop near you, you can order their spices online. Worth the extra effort, in my opinion. I found this recipe in the Penzeys shop magazine. (I swear they don't pay me to write this, I just love them!) If you can't get the Penzeys spice, substitute with your favorite seasoning blend. It will still make a fantastic stew.
Ingredients:
2 lbs. beef stew meat, cut into in 1-inch cubes
1/4 cup all purpose flour
2 Tablespoons Penzeys Spices "BBQ 3000" seasoning blend (or similar seasoning blend such as Emeril's Essence or Lawrey's Seasoning Salt)
2 Tablespoons extra virgin olive oil, plus 1 teaspoon
8 cups beef broth
1 yellow onion, diced
2 medium yellow potatoes, peeled and diced into 1-inch cubes
2 cups celery, diced
2 cups carrots, peeled and diced
1 leek, rinsed and sliced into 1-inch pieces
Directions:
In a medium bowl, combine flour with 2 Tablespoons seasoning slat. Stir well to combine.
Dredge beef pieces in seasoned flour, shaking off excess.
Heat olive oil in a large soup pot or Dutch oven, over medium-high heat.
Working in batches, add beef and brown on all sides, about 5 minutes.
Using a slotted spoon, transfer beef to a plate and set aside.
Add onion, celery, carrot and leeks to pot and cook 10 minutes, stirring often, until veggies are soft and turning golden. (Add a drop more olive oil if pot is dry.)
Add broth and beef back to pot.
Add remaining 1 teaspoon seasoning salt and stir.
Bring to a boil.
Reduce heat, cover and simmer for 1 1/2 hours, or until meat is tender. Stir occasionally.

Related Recipes