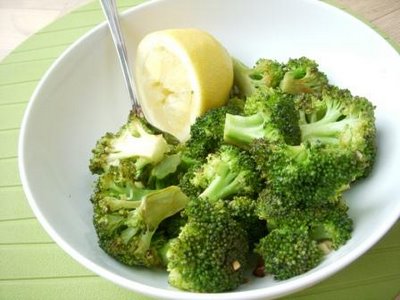 Here's a scrumptious way to snazz up boring broccoli! This side dish uses all fresh ingredients and is ready in no time. Pair it with Baked Gouda Mac & Cheese, Chicken Tenders, Balsamic Chicken or Simple Grilled Salmon.
Ingredients:
1 large head fresh broccoli
2 fresh garlic cloves, minced
1 fresh lemon
3 tablespoons extra virgin olive oil
Kosher salt, to taste
Directions:
Pre heat oven to 425 degrees F.
Cut broccoli head into equal size floret pieces. Rinse pieces in cold water and pat excess water off with paper towel. Set all pieces on cookie sheet.
Drizzle olive oil onto broccoli pieces. Add minced garlic and toss until evenly coated.
Cut lemon in half. Squeeze juice from half lemon onto broccoli pieces. Zest rind of half lemon over broccoli pieces. Reserve other half of lemon.
Toss well until evenly coated, separating pieces as to not overcrowd pan. Sprinkle with salt to taste.
Place in hot oven and roast 5 minutes.
Remove from oven. Stir and separate pieces. Return to oven. Roast additional 5 minutes.
Remove from oven and squeeze reserved half lemon onto hot broccoli.
Serve immediately.

Related Recipes