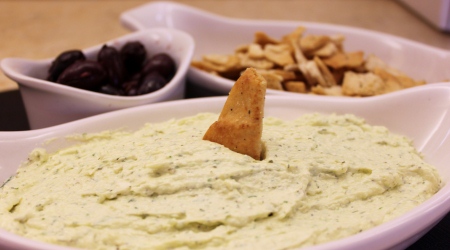 Thanks to my Aunt Lori and cousin Jessica for creating this AMAZING feta spread! It's great served as a dip with pita chips and olives–I brought it to a party recently and it was devoured! It also makes a fantastic spread for roast beef sandwiches and is equally delicious stuffed into a chicken breast then baked. Enjoy!
Ingredients:
4 oz. feta cheese (I highly recommend using real feta, made with sheep's milk–not cow's milk feta that's commonly sold in the US. Authentic sheep's milk feta is distinct and full of flavor!)
8 oz. cream cheese
1 Tablespoon fresh chives, chopped
1 Tablespoon white onion, grated
1 large clove fresh garlic, chopped
1 teaspoon Tabasco
1 teaspoon dried dill weed
Kosher salt and freshly ground black pepper, to taste
1-2 Tablespoons extra virgin olive oil
Directions:
Blend all ingredients (except olive oil) in a food processor until smooth.
Slowly add in olive oil as needed, and continue blending, to reach desired consistency.
Scrape into a bowl.
Cover and refrigerate at least 2 hours prior to serving.

Related Recipes