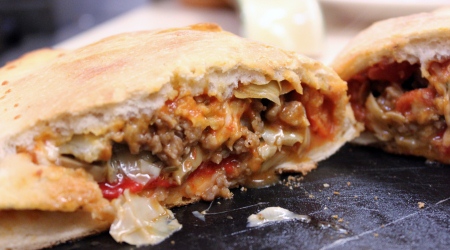 Need a family-friendly Friday night dinner idea? Then try this! This recipe makes four calzones–fun for everyone to make their own. This is my favorite combo of spicy fillings, but mix it up and throw in what ya like!
Ingredients:
1 recipe pizza dough (listed separately on this site)
1 cup marinara sauce
1 cup mozzarella cheese
1 cup Italian sausage, cooked and crumbled (I used spicy)
1 cup roasted red peppers, drained and chopped
1 jar artichoke hearts, marinated in oil, drained well and chopped (I used spicy)
1 (8 oz.) package pre-sliced mushrooms, rinsed
Extra virgin olive oil
Directions:
Pre-heat oven to 450 degrees F.
Divide pizza dough into 4 equal portions and create round circles.
Using a floured rolling pin, roll out each mound of  dough to about 1/2 inch thick.
Add 1/4 cup sauce to center of each dough round.
Next add 1/4 cup mozzarella cheese to each.
Next add 1/4 cup sausage to each.
Continue by adding red peppers, artichoke hearts, and mushrooms evenly between each dough round.
Brush a bit of olive oil along edges of all dough.
Pull one side of the dough over the filling to reach the other side.
Seal all edges and brush top of each calzone with a bit more olive oil.
Place each calzone on a cookie sheet, that has been sprayed with Pam cooking spray.
Bake 15-20 minutes, until golden.
Let cool slightly before eating.

Related Recipes