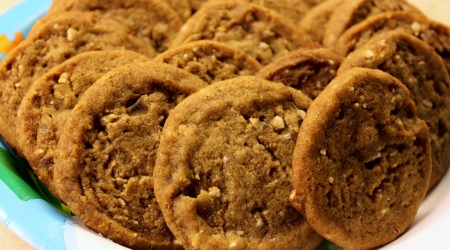 These are my favorite Christmas cookies! (I found the recipe in Sunset Magazine.) The candied ginger and ground almonds adds an extra little something to make these sweet and spicy cookies stand apart from the same-old ginger cookie. Plan ahead as the dough needs to chill–but well worth the wait!
Ingredients:
1/2 cup butter, room temperature
1/2 cup solid vegetable shortening
1 cup granulated sugar
1/2 cup molasses
2 teaspoons grated lemon peel
3 cups all purpose flour
1 teaspoon baking soda
1 teaspoon ground ginger
1 teaspoon ground cinnamon
1/2 teaspoon ground cloves
1/2 cup slivered almonds, finely ground
1/2 cup candied ginger, finely chopped
Directions:
In a large bowl, with an electric mixer on medium speed, beat butter, shortening, and sugar until smooth.
Beat in molasses and lemon peel until well blended.
In another bowl, mix flour, baking soda, ground ginger, cinnamon, and cloves.
Stir flour mixture into butter mixture until completely incorporated.
Stir in almonds and candied ginger.
Divide dough into thirds.
Shape each third into a roll about 1 1/2 inches in diameter.
Wrap rolls in waxed paper and chill until firm, at least 4 hours (or up to 1 week).
Pre heat oven to 350 degrees F.
Unwrap dough.
Using a sharp knife, cut into 1/4-inch-thick slices.
Place slices about 1-inch apart on a baking sheet that has been sprayed with Pam cooking spray.
Bake cookies 7 to 10 minutes, until edges are lightly browned.
With a wide spatula, transfer cookies to a rack to cool completely.

Related Recipes