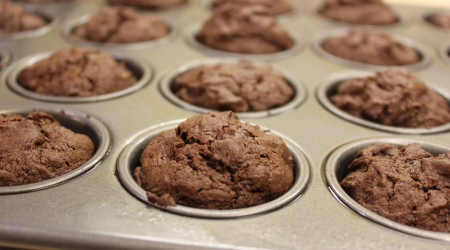 I love the dessert trend happening right now–bite size treats! Perfect to satisfy your sweet tooth without jeopardizing your waist line. Plus they're great for parties. Here's a fabulous recipe for bite-size brownies. It comes from an Australian chef I've recently discovered (and adore!)–Donna Hay: http://www.donnahay.com.au/
Happy baking!
Ingredients:
5 oz. butter, softened
1 cup granulated sugar
3/4 cup cocoa powder
2 eggs
1 cup all-purpose flour
1 teaspoon baking powder
1 teaspoon vanilla
1/2 cup semi-sweet chocolate chips
Directions:
Pre heat oven to 350 degrees F.
Spray a mini-muffin tin with Pam cooking spray. Set aside.
In a large mixing bowl, beat butter and sugar until light and fluffy (about 4 minutes).
Add cocoa, eggs, flour, baking powder, and vanilla. Mix until well combined.
Stir in chocolate chips.
Spoon batter evenly into mini-muffin tin.
Bake 8-10 minutes. Do not over bake.
Cool in tin 5 minutes.
Carefully remove from tin and cool completely.

Related Recipes