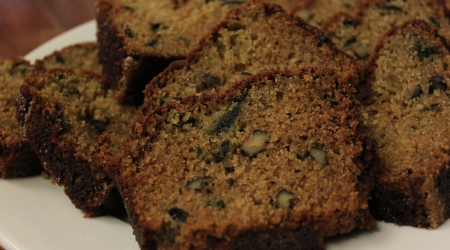 Yep, more figs from neighbor Frank. But like I always say…"when life hands you figs, make fig bread". Or something like that

This bread is SO GOOD that I think you need to add figs to your grocery list (unless of course you too have a neighbor Frank with a fig tree). If you've never tried a fig before, this is the recipe to start with! It's figgin amazing bread!
Ingredients:
3 eggs
2 1/2 cups granulated sugar
2 cups fresh, ripe figs, stems removed, diced and slightly mashed
3/4 cup vegetable oil
1 teaspoon vanilla
3 cups all-purpose flour
2 teaspoon baking soda
1 teaspoon salt
1 teaspoon cinnamon
1/2 cup buttermilk
1 cup chopped walnuts
Directions:
Pre heat oven to 350 degrees F.
Spray 2 loaf pans with Pam cooking spray and lightly coat with granulated sugar. Tap pans upside down to shake off excess sugar. Set aside.
In a large mixing bowl, beat eggs.
Add sugar and beat until well combined.
Add mashed figs, vanilla, and vegetable oil. Beat until well combined.
In a separate bowl, sift together flour, baking soda, salt and cinnamon.
Add fig mixture to flour mixture, alternately with buttermilk.
Beat well after each addition.
Fold in chopped walnuts.
Bake 45 minutes to 1 hour, or until lightly browned around edges and set in center.
Cool in pans 10 minutes.
Carefully remove from pans and allow to cool completely before slicing.

Related Recipes