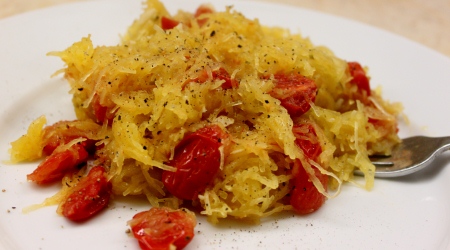 This was my first time cooking a spaghetti squash. (I realize I'm about 10 years behind the trend, but hey, better late than never.) And while this dish was really tasty, I have to disagree with those who swear "it's just like pasta!" No. It's not. It's just like squash. Which isn't a bad thing–at all. Just don't get your hopes up for a low cal, low carb pasta replacement. Get your hopes up for a delicious, flavorful squash dish that pairs well with baked chicken. And if you want pasta–eat pasta

Ingredients:
1 spaghetti squash (about 2 lbs.)
2 Tablespoons extra virgin olive oil
2 cloves fresh garlic, slivered
1/2 cup fresh grape tomatoes, halved
1/2 cup fresh basil leaves, chopped
Coarse salt and freshly ground pepper
Directions:
Preheat oven to 375 degrees F.
Place whole squash in microwave for 5 minutes. Remove. (This will slightly soften the skin for easier slicing.)
Using a large, sharp butcher knife, carefully slice squash in half, length-wise.
Using a spoon, scoop out seeds and discard.
Place halves, cut side down, in a baking pan with 1/2 cup water.
Bake un-covered until soft to the touch, about 45 minutes.
When cool enough to handle, scrape flesh into strands using a fork. Set aside.
In a large skillet, heat olive oil over medium heat.
Add garlic and tomatoes and cook 5 minutes.
Stir in squash and basil.
Season with salt and pepper.
Cook, tossing frequently, until squash is very hot, about 5 minutes.

Related Recipes