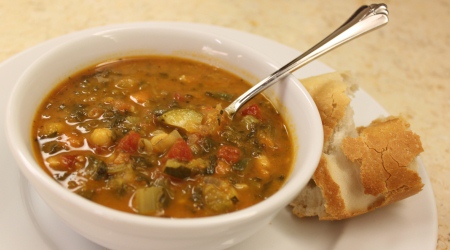 This is THE BEST minestrone soup recipe I've ever tried! My Mom gave it to me years ago (thanks Mom!) It's a knock-off recipe from a well known Italian restaurant in Michigan, called Lelli's (thanks Lelli's!). Use the freshest ingredients you can find–it makes a big difference.  I love the method of pureeing a portion of the soup then mixing it in. The result is a thick, hearty, stick-to-your-bones soup. Serve along side fresh bread or a grilled cheese sandwich for a perfect winter meal.
Ingredients:
2 Tablespoons extra virgin olive oil
2 Tablespoons butter
1 1/2 cup onion, diced
1 1/2 cup celery, diced
1 1/2 cup carrots, diced
3 teaspoons fresh garlic, minced
8 cups chicken broth
2 (15 oz.) cans garbanzo beans
2 (14 oz.) cans petite diced tomatoes
1 (10 oz.) package frozen spinach
1/2 lbs. fresh green beans, rinsed and diced
2 small zucchini, diced
1 small can tomato paste
4 teaspoons dried parsley
2 teaspoons kosher salt
2 teaspoons freshly ground black pepper
1 teaspoon dried basil
3/4 cup uncooked Ditalini (or macaroni) pasta
1/2 cup parmesan cheese, freshly grated
1/2 cup heavy cream
Directions:
Heat olive oil and butter in a large stock pot over medium-high heat.
Add onion, celery, and carrots.
Saute 10 minutes, stirring often.
Add garlic and cook 1 minute.
Add next 11 ingredients (chicken broth thru basil). Stir well to combine.
Bring to a boil.
Reduce heat to low, cover, and simmer 30 minutes.
Carefully ladle about 1/3 of the soup into a blender. Puree. Pour pureed soup back into stock pot.
Add uncooked noodles and simmer additional 10 minutes, until noodles are soft.
Stir in cream and parmesan cheese.
Heat 3 minutes.
Remove from heat and serve.
This soups is even better re-heated the next day. And it freezes well.

Related Recipes