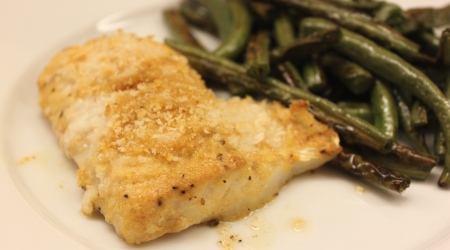 It doesn't get much easier than this! This recipe is low in fat, low in calories, but high in flavor. Serve it with fresh veggies and you'll have a great dinner in no time!
Ingredients:
2 teaspoons extra virgin olive oil
2 teaspoons Dijon mustard
1/2 teaspoon Creole seasoning blend
4 (6 oz.) cod fillets (about 1 inch thick)
4 Tablespoons panko breadcrumbs, divided
1 Tablespoon fresh lemon juice
Directions:
Pre heat oven to 400 degrees F.
In a small bowl, whisk together olive oil, mustard, and Creol seasoning.
Brush mustard mixture evenly over each piece of fish.
Top each piece of fish with 1 Tablespoon panko breadcrumbs.
Place fish on a foil-lined baking sheet coated with Pam cooking spray.
Bake 15 minutes, or until fish flakes easily when tested with a fork.
Drizzle lemon juice evenly over fish and serve.

Related Recipes