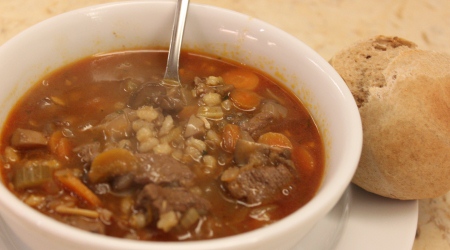 I recently found this recipe in Martha Stewart magazine. I was looking for a hearty-stick-to-your-bones-winter-day-kinda soup. And this is it! I changed a few things, but most of the recipe still belongs to Martha. Serve this fabulous hot soup with a crusty roll on a blustery cold day.
Ingredients:
2 Tablespoons extra virgin olive oil, divided
1 lb. London broil beef, cut into 1/2-inch cubes
Kosher salt and freshly ground pepper, to taste
1 large onion, chopped
2 large celery stalks, chopped
2 medium carrots, chopped
10 oz. fresh cremini mushrooms, trimmed and thinly sliced
4 cloves fresh garlic, minced
3 Tablespoons tomato paste
3/4 cup dry red wine
4 cups chicken stock
3 cups water
3/4 cup pearl barley
1/4 cup fresh flat-leaf parsley, coarsely chopped
Garnish with grated fresh horseradish, if ya like it spicy!
Directions:
Heat 1 Tablespoon plus 1 teaspoon oil in a large soup pot over medium-high heat.
Season beef with salt and pepper to taste.
Add beef to pot and brown on all sides, 5 to 7 minutes.
Transfer beef to a plate using a slotted spoon.
Reduce heat to medium.
Add remaining 2 teaspoons oil.
Add onion, carrot, celery, and mushrooms and cook until golden, stirring occasionally, 12 to 15 minutes.
Season with additional salt and pepper, to taste.
Add garlic and tomato paste, and cook, stirring, until caramelized, about 2 minutes.
Remove pot from heat, and add wine.
Return pot to heat, and bring wine to a boil, scraping up brown bits from bottom using a wooden spoon.
Cook until reduced by half, about 5 minutes.
Return beef to pot, and add stock and water.
Bring to a boil.
Reduce heat to low and simmer, covered, stirring occasionally, for 1 hour.
Add barley.
Cook, covered, for another 30 minutes.
Uncover, and cook until beef and barley are tender, 20 minutes more.
Stir in parsley.
Serve soup hot, garnished with horseradish, if ya like.
Leftovers taste great the next day and this soup freezes well!

Related Recipes