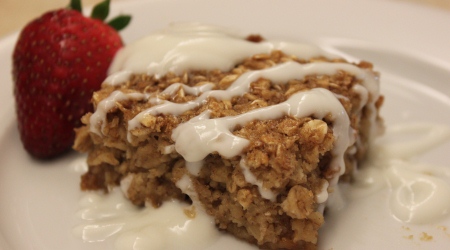 Toss out your packets of instant oatmeal and try your oatmeal baked instead! I found this recipe on another food blog, called joyinmykitchen.blogspot.com. When I saw this recipe, I knew it was too good to pass up. This was my first time baking, and first time eating, baked oatmeal–and I'm happy to say thumbs up to both! It's easy to make and tastes great. Serve it warm, drizzled with vanilla yogurt and fresh fruit.
Ingredients:
3 cups oats
1/2 cup packed brown sugar
1/4 cup granulated sugar
2 teaspoons baking powder
1 teaspoon salt
1 teaspoon ground cinnamon
2 eggs
1/2 cup applesauce
1 cup milk
1 teaspoon vanilla
Directions:
Pre heat oven to 350 degrees F.
Spray 9×9 baking dish with Pam cooking spray. Set aside.
In a large bowl, stir together oats, brown sugar, white sugar, baking powder, salt, and cinnamon.
In a separate bowl, whisk together eggs, applesauce, milk and vanilla.
Add wet ingredients to dry ones and stir until moist.
Pour mixture into prepared pan.
Bake 30-40 minutes, or until golden brown.
Serve warm topped with vanilla yogurt and fresh fruit (if ya like!). Also great drizzled with pure maple syrup.
Cut into squares, this breakfast freezes really well.

Related Recipes