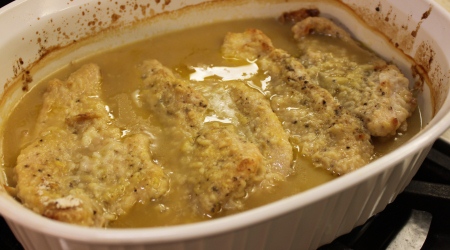 Oh how I've missed this meal!!! I used to bake this chicken all the time when I was first married. The recipe comes from an old cookbook of mine called "Trim & Terrific" by Holly Clegg–which for some inexplicable reason, I put into storage when we moved overseas. Why didn't I bring the cookbook with me??? No idea. I thought about this recipe over the years, but could not remember the exact ingredients or what to do with them. So it's been 4 years since I made this insanely simple and delicious chicken! The chicken bakes up tender and moist in the gravy–which goes well over rice, mashed potatoes, or biscuits. YUM! I'll probably make this every week from now on. P.S. Each serving is only 200 calories! That's the "trim" in "Trim & Terrific"

Ingredients:
4 boneless, skinless, chicken breasts
2/3 cup biscuit baking mix (like Bisquick)
1 Tablespoons extra virgin olive oil
3 cloves fresh garlic, minced
2 Tablespoons all-purpose flour
2 cups chicken stock
Freshly ground black pepper, to taste
Directions:
Pre heat oven to 375 degrees F.
Spray a 3-quart oblong baking dish with Pam cooking spray. Set aside.
Pound each chicken breast to even thickness.
Season both sides of chicken with pepper.
Place baking mix in a shallow plate.
Coat both sides of each chicken breast in baking mix, shaking off excess.
Place coated chicken into baking dish, in a single layer.
Bake 30 minutes, uncovered.
While chicken bakes, heat olive oil in a saucepan over medium-high heat.
Add garlic. Stir and cook 1 minute.
Add flour to saucepan and cook 1 minute, stirring continuously.
Whisk in chicken broth and bring to a boil.
Cook, 10 minutes, until thickened. Stir often.
Remove baking dish from oven and pour gravy over chicken.
Cover baking dish with lid or foil.
Return to oven and bake, covered, an additional 20 minutes, or until chicken is cooked thru.

Related Recipes