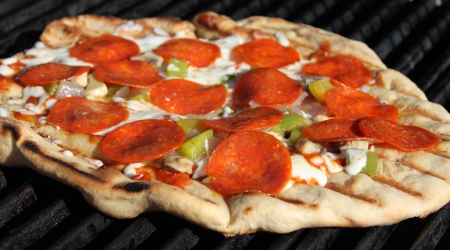 Why haven't I been making this recipe forever?? It's so easy and so much better than anything pre-made! Never again will we eat store bought pizza dough in this house. Thank you to my friend KL for sending me this life-changing recipe

One thing to note–I tried my hand at grilling pizza (hence the photo). And while it was tasty on the grill, it was way too messy and way too much work for me to ever do again. So, the recipe below is for baking pizza. Also, if you're looking for a new and exciting way to top your pizza dough, try one of these recipes listed on this site: BBQ Chicken Pizza, Three Cheese Potato Pizza, Home-Made Veggie Pizza, Mexican Pizza, Chicken, Pesto, Red Grape Pizza, Thai Peanut Chicken Pizza, or even Breakfast Pizza!
Ingredients:
1 packet active yeast (or 2 1/4 teaspoons from a jar)
1 cup warm water
2 teaspoons honey
1 teaspoon salt
1 Tablespoon extra virgin olive oil (plus more for greasing)
3 cups all-purpose flour
Directions:
In a Kitchen Aid standing mixer, fitted with dough hook, mix active yeast with warm water until combined.
Add  honey, salt, olive oil, and flour.
Mix at medium-low speed until dough clings to hook and sides of bowl are clean.
Continue mixing for 2 minutes to knead dough.
Remove dough from mixer and place into a metal or glass bowl that has been greased with olive oil.
Cover and let rise until doubled in size, about 1 hour.
Pre heat oven to 425 degrees F.
Grease 14-inch pizza pan with olive oil.
Remove dough from bowl and punch dough down.
Press dough across bottom of pan and up edges.
Bake crust 5 minutes. (Baking dough before adding toppings reduces risk of soggy pizza.)
Remove crust from oven and add pizza toppings of your choice (sauce, cheese, pepperoni, mushrooms, etc.)
Return to oven and continue baking 10-15 minutes until golden brown and bubbly.

Related Recipes