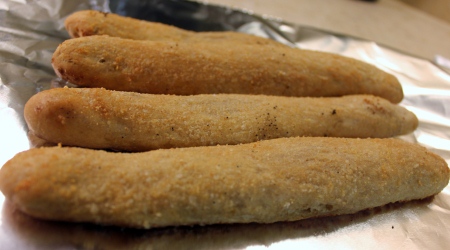 I don't know about you, but there are times when I find myself completely absorbed and utterly lost in the blogosphere for hours. One click leads to another, and another, until I'm so far in I can't remember where I started. But on a good day, those clicks lead to a great recipe find. Like this one! I found this recipe on http://joyinmykitchen.blogspot.com These bread sticks were a cinch to make and were a HUGE hit with my family! They're kinda like the bread sticks served at Olive Garden (if you use all white flour). I used some white and some wheat flour for a denser, slightly chewier texture. Either way, try these with your next meal!
Ingredients:
3/4 cup warm water
1 1/8 teaspoon yeast
1 1/2 cup all-purpose flour
3/4 cup wheat flour
2 Tablespoon unsalted butter, melted and divided
1 Tablespoon granulated sugar
2 teaspoons kosher salt, divided
1 teaspoon garlic powder
Directions:
Place warm water and yeast into a stainless steel Kitchen Aide mixing bowl. Let dissolve without stirring.
Add 1 Tablespoon melted butter, 1 teaspoon salt and sugar to the bowl.
Add both flours and mix using dough hook attachment.
Mix until a ball of dough forms in the bowl.
Using your hands, roll dough into 8 long bread sticks.
Place on a large cooking sheet.
Cover with plastic wrap and allow dough to rest for 45 minutes (they'll rise slightly.)
Pre heat oven to 400 degrees F.
Bake breadsticks 7 minutes, un-covered.
Meanwhile, in a small bowl, whisk together remaining 1 Tablespoon melted butter, remaining 1 teaspoon salt and garlic powder.
Remove breadsticks from oven and brush each breadstick with melted butter mixture.
Return to oven and continue baking 8 additional minutes (until lightly browned).
Brush any remaining melted butter over breadsticks and serve right away.

Related Recipes