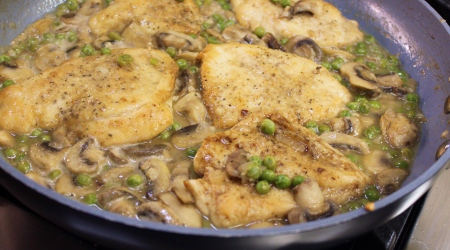 I'm at almost 400 recipes on this site, and I gotta be honest with you…I'm running out of words to describe food. I feel like I've exhausted "delicious", "tasty", "fantastic", "yummy" and "sooooo good".  And I'm not really a "superb" , "delectable" or "pallet-pleasing" kinda gal. So where does that leave us? Are we at a point yet where you trust me enough to know that I'm only gonna put the really good recipes on here? Can we leave it at that? In the meantime, I'll try my best to think up new adjectives. Oh, and regarding this recipe for Chicken Marsala from Cooking Light…it's FANTASTIC!!!

Ingredients:
3 Tablespoons butter, divided
1 Tablespoon extra virgin olive oil
8 oz. fresh mushrooms, sliced
2 Tablespoons shallots, finely chopped
1 Tablespoon fresh garlic, minced
4 skinless, boneless chicken breasts
Kosher salt and freshly ground black pepper, to taste
3 Tablespoons all-purpose flour
3/4 cup chicken broth
1/2 cup dry Marsala wine
1/2 cup frozen green peas
2 Tablespoons half-and-half
4 cups angel hair pasta, prepared according to package directions
Directions:
Heat olive oil in a large nonstick skillet over medium-high heat.
Add mushrooms, shallots, and garlic.
Cook 8 minutes, until moisture evaporates and mushrooms are slightly browned.
Scrape mushroom mixture from pan and set aside.
While mushrooms are cooking, pound each chicken breast into 1/4-inch thickness using a meat mallet.
Sprinkle both sides of chicken with salt and black pepper.
Place flour in a shallow dish.
Dredge each chicken breast in flour, shaking off excess.
Melt 2 Tablespoons butter in same skillet skillet, and place over medium-high heat.
Add chicken and cook 3 minutes on each side, or until lightly browned.
Remove chicken from pan–set aside.
Return mushroom mixture to pan.
Add broth and Marsala, scraping pan to loosen browned bits.
Bring mixture to a boil, reduce heat, and simmer 5 minutes (or until reduced to about 1 cup).
Stir in peas and cook 1 minute.
Add remaining 1 Tablespoon butter, half-and-half, salt, and pepper to taste.
Stir until butter melts.
Return chicken to pan and cook until thoroughly heated. (About 5 minutes).
Serve chicken and sauce over angel hair pasta.

Related Recipes