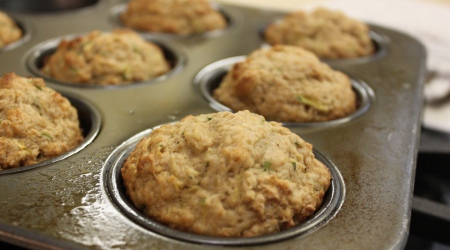 I may have found my new favorite muffin. Holy cow these are good! So light and lemony and fresh. Plus they're from Cooking Light so only 150 calories each! If I ever open a cafe, expect to see these served along side every salad.
Ingredients:
1 cup all-purpose flour
1 cup wheat flour
1/2 cup granulated sugar
1 Tablespoon baking powder
2 teaspoons grated lemon rind (about 1 large lemon)
1/4 teaspoon salt
1/4 teaspoon ground nutmeg
1 cup zucchini, shredded
3/4 cup milk
3 Tablespoons vegetable oil
1 egg
Directions:
Pre heat oven to 400 degrees F.
Combine first 7 ingredients in a large bowl. Make a well in center of mixture.
In a separate bowl, whisk together zucchini, milk, oil, and egg.
Add liquid mixture to flour mixture, stirring just until dry ingredients are moistened.
Divide batter evenly among 12 muffin cups coated with cooking spray.
Bake 20 minutes or until golden.
Remove from pans immediately, and let cool on a wire rack.

Related Recipes