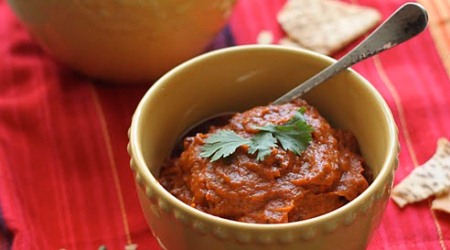 I was looking for a low-cal appetizer to bring to a friend's party the other day, when I ran across this recipe online. It's adapted from a Barefoot Contessa recipe–I say "adapted" because I changed about 5 things

And it turned out fantastic!!! It was a big hit at the party. And it's practically guilt-free! All-in-all, a great go-to app recipe.
Ingredients:
1 medium Italian eggplant, peeled and diced
2 red bell peppers, seeded and diced
1 medium red onion, diced
4 fresh cloves of garlic, minced
1 teaspoon garlic salt
Freshly ground black pepper, to taste
2 Tablespoons tomato paste
1 Tablespoon balsamic vinegar
3 Tablespoons extra virgin olive oil, divided
1 Tablespoon water
Pita chips, bread sticks, or crackers, for serving
Directions:
Pre heat oven to 400 degrees F.
Place diced veggies and minced garlic in a large bowl.
Add 2 Tablespoons olive oil, garlic salt, and pepper. Toss well to coat.
Spread veggies out in one layer on a rimmed baking sheet.
Roast 30 minutes (or until well-browned and soft). Toss veggies once during roasting.
Let vegetables cool slightly, then transfer to a food processor.
Pulse vegetables a few times to break them up.
Then add tomato paste, water, balsamic, and remaining 1 Tablespoon olive oil.
Pulse until well-blended and mostly smooth.
Serve at room temperature or store in the fridge for a few days.

Related Recipes