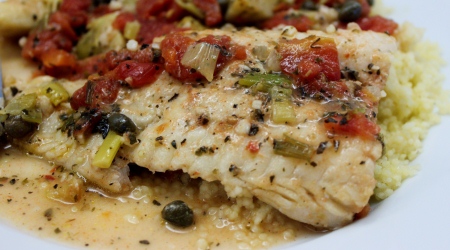 This one's for you Tara! Over 350 recipes on here and this is my first white fish recipe. Really sorry it took me so long, but it was worth the wait…'Cause this recipe is FANTASTIC! Thanks to my friend Lisa for sending it to me. I literally licked my plate clean. Serve this Greek-inspired fish over couscous to soak up the delicious juices. Oh, and if you haven't yet discovered McCormick's Greek Seasoning–run and get it! It's an insanely delicious blend of oregano, mint, garlic and sea salt. I'm gonna find other ways to use it, that's a promise!
Ingredients:
4 white fish fillets (use cod, tilapia, snapper, or mahi)
Freshly ground black pepper, to taste
2 teaspoons McCormick's Greek seasoning, divided (substitute oregano if need be)
1 Tablespoon extra virgin olive oil
5 cloves fresh garlic, minced
1/4 cup fresh green onions, diced
1 (14 oz.) can quartered artichoke hearts, drained
1 (14.5 oz.) can diced tomatoes, drained
1 Tablespoon capers
1/4 cup white wine
Juice from 1 fresh lemon
Directions:
Season both sides of fish with pepper and 1 teaspoon Greek seasoning (divided evenly onto all 4 pieces).
Heat oil in a large skillet (with lid).
Add garlic and green onions.
Cook and stir over medium heat for 2 minutes, until onions are slightly softened.
Add fish fillets to skillet.
Top with tomatoes, artichokes, capers, lemon juice, wine and remaining 1 teaspoon Greek seasoning.
Cover and cook on medium-low heat, 8-10 minutes.
While cooking, stir vegetables once.
Fish is cooked when it flakes easily with a fork.

Related Recipes