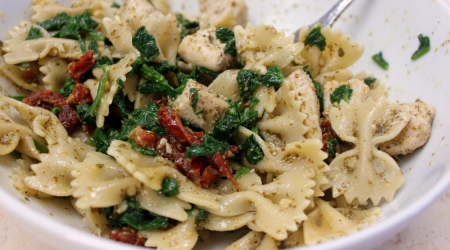 This KP original recipe comes together quickly for a great mid-week meal. It's best with home-made pesto, but use jarred to save time. This served my family of 4 with no leftovers

Ingredients:
1/2 box of bow tie pasta
1 bag fresh spinach, rinsed and chopped
2 boneless, skinless chicken breasts, cut into bite-size pieces
Garlic salt and freshly ground black pepper, to taste
1/2 cup pesto
3/4 cup white wine
2 teaspoons extra virgin olive oil (divided)
3 fresh garlic cloves, minced
1/2 cup sun-dried tomatoes, packed in oil, drained
1/2 cup freshly grated parmesan cheese
Directions:
Cook pasta according to package directions. Drain and set aside.
While pasta is cooking, heat 1 teaspoon oil in a large skillet.
Add garlic and cook 1 minute.
Add spinach and stir and cook until spinach wilts (about 3 minutes).
Remove spinach from pan and keep warm. Wipe pan clean.
Add remaining teaspoon of oil to pan and heat on high heat.
Season chicken with garlic salt and pepper, to taste.
Add chicken to pan and brown 6 minutes, stirring often.
Add wine to pan and bring to a boil.
Cook 4 minutes to reduce.
Stir in pesto, sun-dried tomatoes, cooked spinach, and cooked pasta.
Cook 3 minutes over medium heat until heated thru.
Sprinkle with parmesan and serve right away.

Related Recipes