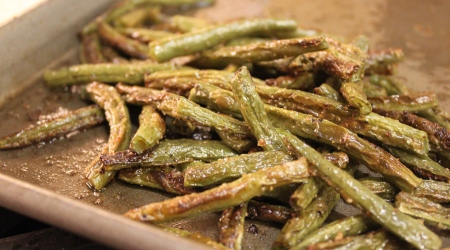 I've been making this recipe about twice a week lately. The summer green beans are soooo good right now, and roasting them makes them utterly irresistible to eat. In fact, my family devours these beans faster than I can get them to the table! If you think you hate green beans–try roasting them and you may be pleasantly surprised.
Ingredients:
1-2 lbs. fresh green beans
1-2 Tablespoons extra virgin olive oil
Freshly ground black pepper and garlic salt, to taste
Directions:
Pre heat oven to 400 degrees F.
Wash and trim green beans. Cut large beans in half.
Place beans on a large rimmed baking sheet.
Add olive oil and toss to coat.
Spread beans into single layer
Season with garlic salt and pepper.
Roast 6-8 minutes. Remove from oven and stir.
Continue roasting another 5 minutes, until beans are golden brown.

Related Recipes