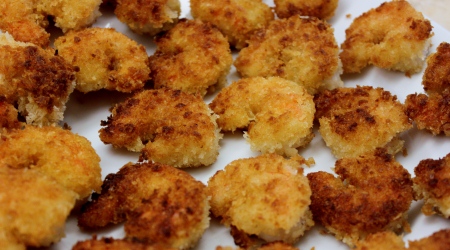 In the mood for fried shrimp??? Well put away that box of frozen stuff and try this recipe from Cooking Light magazine. It's easy to make and will totally satisfy your craving for fried yummy-ness! And the creole dip is awesome!!!
Ingredients:
1/2 cup all-purpose flour
1 1/2 teaspoons Creole seasoning (I used Tony Chachere's), divided
1/8 teaspoon Kosher salt
1/4 cup milk
3/4 cup panko breadcrumbs
1 1/2 lbs. raw large shrimp, peeled, tails removed and deveined
3 Tablespoons extra virgin olive oil, divided
2 Tablespoons mayo
1 teaspoon Worcestershire sauce
1/4 teaspoon Tobasco sauce
Directions:
Combine flour, 1 teaspoon Creole seasoning, and salt in a shallow dish. Set aside.
Pour milk into a separate shallow dish. Set aside.
Place breadcrumbs in another shallow dish.
Dredge shrimp first in flour mixture, then dip in milk.
Next dredge shrimp in panko breadcrumbs and shake off excess.
Heat a large nonstick skillet over medium-high heat.
Add 1 1/2 Tablespoons olive oil to pan.
Once oil is hot, add half of shrimp to pan.
Cook 2 minutes on each side or until done.
Repeat procedure with remaining oil and shrimp.
To make dip, combine mayonnaise, remaining Creole seasoning, Worcestershire, and hot sauce in a small bowl. Stir with a whisk.
Serve Creole mayonnaise with shrimp.

Related Recipes