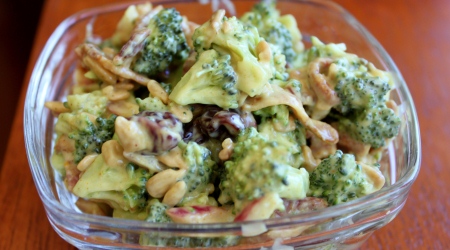 I'll admit–I was skeptical of this salad at first. Wasn't sure if I'd like the raw broccoli. But I had lots of dried cherries to use up (thanks to a gracious gift from my in-laws!) Turns out his salad is super! It's crunchy, sweet, savory, and a touch spicy from the curry. Try it at your next pot-luck. You won't be disappointed! Thanks to allrecipes.com for the recipe.
Ingredients:
1/2 lb. bacon
6 cups fresh broccoli florets, chopped small
1/2 cup red onion, diced
1/2 cup dried cherries
1/2 cup sunflower seeds
3/4 cup mayonnaise
1 teaspoon curry powder
2 Tablespoons cider vinegar
1/4 cup granulated sugar
Directions:
Place bacon in a large skillet. Cook over medium high heat until evenly brown. Drain, crumble and set aside.
In a large bowl, combine cooked bacon, broccoli, onion, cherries and sunflower seeds.
In a separate bowl, whisk together mayo, curry powder, vinegar and sugar.
Pour dressing over salad.
Toss to coat, and marinate over night.

Related Recipes