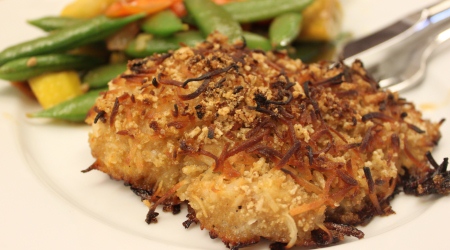 I recently had a girls night out at the "Dream Dinners" meal assembly store in my neighborhood. It was fantastic! We each made 6 dinners to bring home and freeze. The recipes were fresh and delicious. Here's my attempt to re-create their recipe for Coconut Chicken. Serve with sweet chili dipping sauce, and Sweet Potato Fries, Coconut Rice, Roasted Smashed Sweet Potatoes, or freshly steamed veggies. Also, I highly recommend you give "Dream Dinners" a try if there's one near you! http://dreamdinners.com/main.php?static=index
Ingredients:
4 boneless, skinless, chicken breasts
1 cup buttermilk
2 cups Panko breadcrumbs
1 cup sweetened coconut, flaked
1 teaspoon kosher salt
Freshly ground black pepper, to taste
1 Teaspoon extra virgin olive oil
Directions:
Using a meat tenderizer, pound each chicken breast to 1/2-inch thickness.
Pour buttermilk into a shallow dish and add chicken.
Cover and marinate in fridge at least 1 hour.
Pre heat oven to 400 degrees F.
In a large zip-lock bag, combine Panko, coconut, salt and pepper. Set aside.
Drain buttermilk from chicken.
One at a time, add chicken to bag with Panko mixture and press to evenly coat all pieces.
Spray cookie sheet with Pam cooking spray.
Place each coated chicken piece on cookie sheet. (Do not allow pieces to touch each other.)
Drizzle pieces evenly with olive oil.
Bake 15-20 minutes, or until lightly browned and cooked thru.

Related Recipes