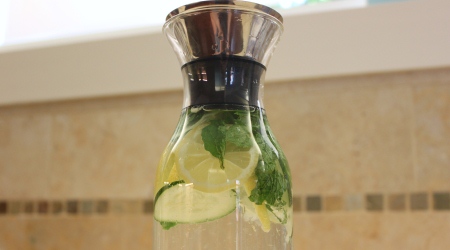 Too hot to cook? Need to beat the heat? Then try this spa water. It's a refreshing change from the usual water with lemon slices. No need to measure anything. Toss in as much stuff as you please. Serve ice cold. I actually drank this at a spa years ago–hence the name. Stay cool!
Ingredients:
Water
Ice cubes
Fresh mint leaves
Cucumber, sliced thin
Lemon, sliced thin
Directions:
Fill your favorite pitcher with water.
Add all other ingredients and stir.
Refrigerate or drink right away.
Best served the same day.

Related Recipes