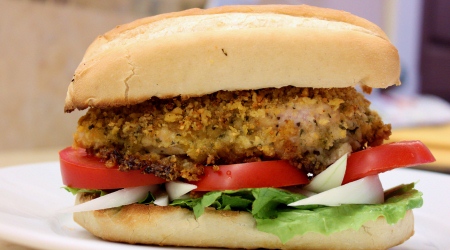 I just made this baked chicken for the first time and I love it! It's incredible! I found the recipe on the back of a box of Panko breadcrumbs. I decided to serve this chicken as a sandwich, but if you prefer, serve it with a side of pasta or sliced on a salad. It's sooooo good!!!
Ingredients:
3 boneless, skinless chicken breasts
1 cup Progresso Panko Italian Breadcrumbs
1/4 cup parmesan cheese, grated (not the green can!)
Freshly ground black pepper and garlic salt, to taste
2 Tablespoons pesto
2 Tablespoons mayo, plus more for sandwich
1 teaspoon extra virgin olive oil
3 sourdough baguettes, sliced and toasted
3 slices romaine lettuce
1 large fresh tomato, sliced
1/4 onion, sliced
Directions:
Pre heat oven to 375 degrees F.
Spray 9×13 baking dish with Pam cooking spray. Set aside.
In a small bowl, mix together 2 Tablespoons mayo and pesto.
Evenly spread pesto mixture onto both sides of chicken breasts. Set aside.
In a shallow dish, mix panko breadcrumbs, garlic salt, pepper, and parmesan cheese.
Working one at a time, place each chicken breast into breadcrumb mixture, gently pressing crumbs to coat each side.
Place breaded chicken breasts into prepared pan.
Drizzle evenly with olive oil.
Bake, uncovered, 30 minutes, or until golden brown on top and chicken is cooked thru.
Once chicken is cooked, assemble sandwiches by spreading additional mayo onto each toasted baguette. Then evenly layer onto each baguette: chicken, lettuce, tomato, and onion slices.

Related Recipes