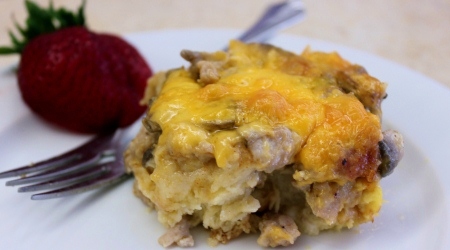 This version of an egg bake comes from my dear friend Susan. We worked together years ago, and one day she brought leftovers of this strata to lunch. I think I ate more of her lunch that day than she did

The combination of fresh mushrooms and onions, sourdough bread, savory sausage, and sharp cheddar cheese is fabulous! Serve this for breakfast with fresh fruit, or for lunch with a crisp side salad. Plan ahead, as this sets in the fridge overnight. Thanks for the recipe Suz!!!
Ingredients:
1 lb. loaf sourdough bread, day-old, cut into 1-inch cubes
1 lb. breakfast sausage (I used chicken sausage–yummy!)
1 Tablespoon extra virgin olive oil
4 green onions, chopped
8 oz. mushrooms, cleaned and sliced
7 eggs
1 1/4 cup milk
1 (10 3/4 oz.) condensed cream of mushroom soup
1 teaspoon smoked paprika
Garlic salt and freshly ground black pepper, to taste
2 cups sharp cheddar cheese, shredded
Directions:
Spay a 9×13 glass baking dish with Pam Cooking spray.
Add bread cubes to dish. Top with paprika, garlic salt and pepper. Set aside.
Cook sausage in a large skillet according to package directions.
Drain fat from skillet and layer cooked sausage  over bread cubes in baking dish.
Into same skillet, add oil and heat over medium high heat.
Add green onions and mushrooms. Cook 5-8 minutes, until tender.
Layer cooked mushrooms and onions over sausage in baking dish.
In a separate large bowl, whisk together eggs, milk, and soup.
Pour egg mixture over mushrooms and onions in baking dish.
Using a large spatula, gently press mixture together ensuring all bread is covered with egg mixture.
Top with shredded cheese.
Cover tightly with Saran wrap and put in fridge overnight.
Pre heat oven to 350 degrees F.
Remove Saran wrap and place baking dish, uncovered, into hot oven.
Bake 35-40 minutes until center is set, cheese is golden brown on top and bubbly on all sides.
Remove from oven and allow to sit 5 minutes before slicing and serving.

Related Recipes