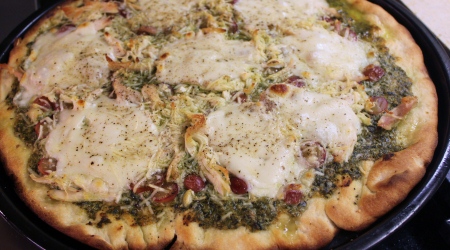 I feel like I'm always suggesting recipes that "would be great for a ladies lunch". Well, I'm happy to say that I actually made this recipe for that very occasion and it was a hit! I found this recipe a few years back in Cooking Light magazine and it's for sure a keeper. It's soooooo tasty!
Ingredients:
Pizza Dough (recipe can be found separately on this site)
1/3 cup pesto
1 1/2 cups seedless red grapes, halved
8 oz.  skinless, boneless, rotisserie chicken, shredded
3 fresh garlic cloves, thinly sliced
4 oz.  fresh mozzarella cheese, thinly sliced
4 Tablespoons Romano cheese, grated
Freshly ground black pepper, to taste
1/4 cup fresh green onions, chopped
Directions:
Pre heat oven to 425 degrees F.
On a lightly floured surface, pat dough into a 12-inch circle.
Gently place dough on pizza pan coated with cooking spray.
Pre-bake crust 5 minutes (with no toppings).
Remove crust from oven and spread pesto evenly over dough, leaving a half inch border around edges.
Arrange grapes evenly over dough.
Then top evenly with chicken.
Top with garlic and mozzarella.
Then sprinkle with Romano cheese and pepper.
Bake 15-20 minutes or until crust is golden brown.
Sprinkle with green onions, slice with a pizza cutter, and serve.

Related Recipes