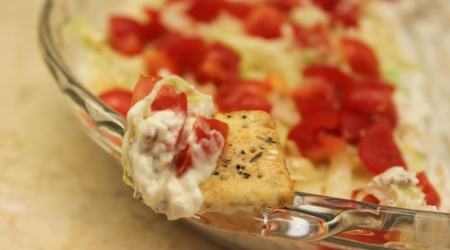 Thanks to my Sis for this easy-to-make, kid-friendly, crowd-pleasing recipe!!
Ingredients:
3/4 cup sour cream
1/4 cup of mayo
4 oz. cream cheese, softened
1/2 cup cooked bacon, crumbled
2 Tablespoons red onion, diced
Freshly ground  black pepper, to taste
Dash Tabasco
1 cup cherry tomatoes, quartered
1 cup shredded iceberg lettuce
Directions:
Using an electric mixer, beat sour cream, mayo and cream cheese together until smooth.
Stir in bacon, onion, Tabasco and pepper.
Scrape into a 9-inch pie plate.
Top with shredded lettuce and tomatoes.
Cover with plastic wrap and chill 2 hours.
Serve chilled with Trader Joe's Everything Crackers (or a similar type cracker).

Related Recipes