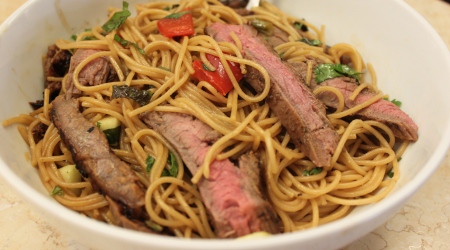 The best noodle bowl I ever ate was in Geneva, Switzerland. No joke. This local, no frills Asian restaurant served a heaping bowl of fresh ingredients all swirling together in incredible sweet and sour flavors. This recipe is my attempt to re-create that dish at home. And it worked! My husband devoured the meal exclaiming "this tastes just like that restaurant!" Success

This recipe makes 3 large servings.
Ingredients:
Asian Marinated Flank Steak, sliced thin (Recipe listed separately on this site)
2 Tablespoons extra virgin olive oil
5 Tablespoons fresh lime juice (do not use bottled)
3/4 cup soy sauce
2 fresh garlic cloves, minced
2 Tablespoons Asian fish sauce
2 Tablespoons packed brown sugar
2 small fresh red Thai chilies (or Serrano chilies), seeded and minced
4 scallions, cut into 1/2-inch pieces
1/4 cup packed fresh cilantro, chopped
1 small seedless cucumber, peeled and diced
2 Tablespoons fresh mint leaves, finely chopped
1/4 cup peanuts, ground
8 oz. thin spaghetti
Directions:
Prepare Asian Marinated Flank Steak as directed. Slice into thin pieces, against the grain. Set aside.
Cook spaghetti according to package directions. Drain and set aside.
In a bowl, whisk together lime juice, soy sauce, fish sauce, and brown sugar. Set aside.
In a large skillet or wok, heat olive oil over medium high heat.
Add garlic and chilies. Cook 1 minute, stirring continuously.
Add sauce mixture and bring to a boil. Cook 5 minutes over high heat.
Add in cooked spaghetti and stir to coat with sauce. Heat until warmed thru.
Remove from heat and stir in cilantro, cucumber, mint, and peanuts.
Divide noodles and sauce evenly into 3 bowls and top with sliced flank steak.

Related Recipes