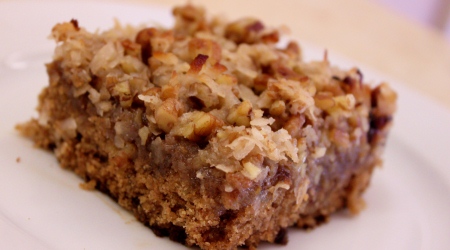 I love adding family recipes to this website–it's become an archive of sorts. My wonderful Aunt Janis (AJ) has made this ooey-gooey oatmeal cake for as long as I can remember. As I tried my hand at baking it, my kitchen filled with the incredible smell of cinnamon and coconut. That smell flooded my memory with images of family parties at my Aunt's house. And isn't that what family recipes are really all about–warm, happy memories of growing up?? I hope you love this cake as much as my family does.
Ingredients:
1 cup quick cooking oats
1 1/4 cup water, boiling
1 cup granulated sugar
1 cup packed brown sugar, plus 1/2 cup, divided
1/2 cup butter, softened, plus 6 Tablespoons, divided
2 eggs
1 1/3 cup all-purpose flour
1 1/2 teaspoon cinnamon
1/2 teaspoon nutmeg
1 teaspoon baking soda
1 teaspoon pure vanilla extract
1/4 cup milk
1 cup sweetened coconut, shredded
1 cup pecans, chopped
Directions:
Pre heat oven to 350 degrees F.
Spray 9×13 baking pan with Pam cooking spray. Set aside.
Place oats in a bowl and pour boiling water on top. Stir to combine and set aside to soak.
In a large mixing bowl, beat 1/2 cup butter, 1 cup brown sugar, and granulated sugar with an electric mixer until creamed (about 3 minutes).
Add eggs one at a time, beating after each addition.
Add vanilla and beat.
In a separate large bowl, SIFT together flour, baking soda, cinnamon, and nutmeg.
To sugar mixture, add oats and flour mixture alternatively. Stir to combine.
Scrape batter into prepared baking pan.
Bake, uncovered, 30 minutes.
While cake is baking, make the topping.
In a microwave safe bowl, melt 6 Tablespoons butter.
Stir in 1/2 cup brown sugar, milk, coconut, and pecans.
After cake had baked 30 minutes, remove from oven and evenly spread on topping.
Increase oven temp to BROIL.
Broil cake for 5 minutes, or until topping melts and just starts to brown.
NOTE–Do not broil on top rack of oven. Place cake with topping in center of oven, and broil.
Allow cake to cool 15 minutes before slicing.

Related Recipes