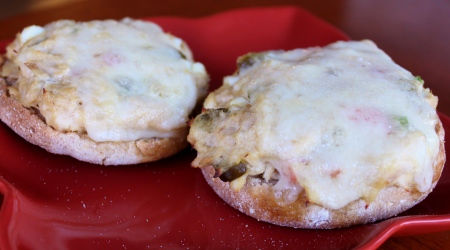 This is the tastiest tuna melt I've ever had! I found the recipe on thepioneerwoman.com (I love that site!) Pop these in the toaster oven for a quick and easy weekday lunch. Great paired with a side salad and fresh fruit. This recipe makes 4 servings.
Ingredients:
2 (5 oz.) cans tuna
2 Tablespoons red bell pepper, diced
2 Tablespoons sweet gherkins, diced
2 Tablespoons Vadalia onion, diced
2 teaspoons fresh jalapeno, seeded and diced
1 egg, hard boiled and chopped
2 Tablespoons mayo
1 teaspoon Dijon mustard
Freshly ground black pepper and kosher salt, to taste
8 slices Swiss Cheese
4 English muffins, halved
Directions:
Pre heat oven to 375 degrees F.
Combine tuna, onion, bell pepper, jalapeno, eggs, and gerkins.
Stir in mayonnaise and Dijon.
Add salt and pepper to taste.
Place English muffin halves on a large cookie sheet.
Place a large spoonful of tuna salad on each of the eight English muffin halves. Use spoon to spread/flatten.
Cook for five minutes, then briefly remove and lay a slice of Swiss on each muffin.
Return to oven and turn on broiler.
Bake until cheese is melted and bubbly, about 5 minutes (watch carefully to avoid burning!)
Remove from oven and serve immediately.

Related Recipes