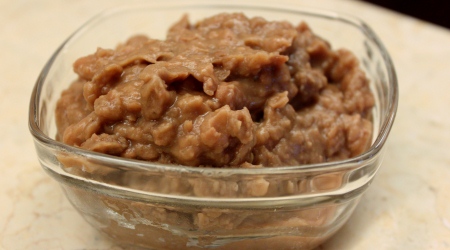 Ever thought you could make home-made refried beans?? Well you can! This recipe from my friend Karen is super easy and super healthy! No lard or fat added like at restaurants. Let these beans slow cook all day while you also make Creamy Chicken Enchiladas or Monterey Chicken for a complete Mexican meal. And this recipe makes a ton of beans, so freeze some for another night.
Ingredients:
4 cups dry pinto beans, rinsed
1/2 large purple onion, peeled and cut into chunks
1 fresh jalapeno pepper, seeded and diced
6 fresh garlic cloves, smashed
4 teaspoons kosher salt
1/2 teaspoon ground cumin
Freshly ground black pepper, to taste
9 cups vegetable broth
2 cups water
Directions:
Place rinsed beans, onion, jalapeno, garlic, salt, pepper, and cumin into a slow-cooker.
Pour in water and broth and stir to combine.
Cover and cook on high for 8 hours.
After 1 hour check beans. If more than 1 cup of water has evaporated during cooking, add 1 additional cup of water. Cover and continue cooking.
Once the beans have cooked, strain them, and reserve liquid.
Place beans back in slow cooker and mash with a potato masher.
Add reserved water as needed to attain desired consistency.

Related Recipes