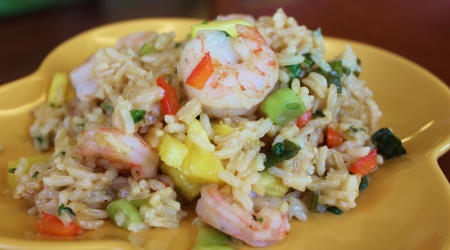 I found this recipe years ago on a box of Mahatma Rice. And it's delish! I have this theory about recipes printed on a product–they're almost always great! I mean, think about it, why would a company print a recipe that makes their stuff taste awful?? They wouldn't–so I'm guessing they only print the really, really good ones. Which is why I try a lot of recipes from the back of a box

This one is no exception–it's a great way to serve shrimp. And leftovers are even better the next day.
Ingredients:
1 cup Jasmine rice, cooked and cooled
1 1/2 cups fresh pineapple, diced small
3 fresh green onions, chopped
1 fresh large red chile, finely chopped
3 sprigs fresh cilantro, coarsely chopped, plus more for garnish
3 Tablespoons canola oil, divided
2 cups fresh raw shrimp, cleaned and deveined, tails removed
3 fresh garlic cloves, minced
2 Tablespoons fish sauce
2 Tablespoons soy sauce
1 teaspoon granulated sugar
Directions:
In a medium bowl, combine pineapple, green onions, chile and cilantro. Mix and set aside.
Heat 1 Tablespoon oil in a large skillet, over medium high heat.
Add shrimp and cook until no longer pink, about 5 minutes. (Tails will curl up.)
Remove shrimp from skillet and set aside.
In same skillet, over medium heat, add remaining oil.
Add garlic and cook until golden brown, about 2 minutes.
Add cooked rice and stir.
Add fish sauce, soy sauce, and sugar. Stir and heat thoroughly.
Fold in pineapple mixture and shrimp.
Heat thoroughly, about 3 minutes.
Garnish with additional cilantro and serve.

Related Recipes