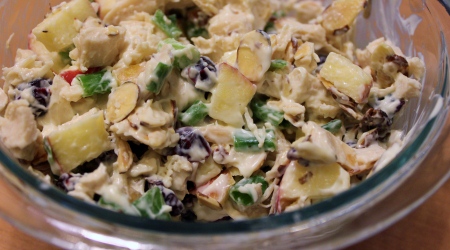 I'm cooking again! I'm cooking again! We moved into our new home a week ago and my first priority was to unpack and organize the kitchen. So now that that's done, I am back in business! And the first thing I whipped up was this delicious chicken salad. It's my own creation filled with sweet apples and honey, mixed perfectly with spicy cayenne and crunchy almonds. Scoop it onto fresh lettuce leaves or into a buttery croissant. (Or if you're like me, eat it right from the bowl.) And stay tuned for many more fresh recipes to come from KP's new kitchen!
Ingredients:
1/4 cup mayo
1 teaspoon honey
Juice from 1 large lemon
2 cups cooked rotisserie chicken, diced
1 small apple, cored and diced
1/2 cup dried cranberries
1/2 cup green onions, chopped
1/2 cup almonds, toasted and slivered
Dash cayenne pepper
Freshly ground black pepper and garlic salt, to taste
Directions:
In a large bowl, whisk together mayo, honey, and lemon juice.
Gently fold in all other ingredients.
Cover and refrigerate 1 hour.
Serve chilled.

Related Recipes